Do you think that faxing is an old way of sending documents that were killed with the arrival of the internet? If you do, you are wrong. In fact, the opposite of that statement is what's really true. The rise of the internet didn't slow down faxing but enhanced it.
Faxing was expensive before the popularity of the internet. You would need a fax machine and pay your landline phone company a monthly fee to send and receive faxes. These expenses would soon add up to a hefty bill.
The rise of the internet made faxing way more convenient than before. Because of the internet, faxing is really easy now. How is that so? There are internet fax services that will make it easy for you to send faxes. Because of great internet faxing services like CocoFax, faxing is made easier and cheaper than ever before. 
You don't need a fax machine or a landline number if you use an awesome internet faxing company called CocoFax. It is an extremely reliable, cheap, and safe way of sending faxes. Sending and receiving documents online using CocoFax is easy. Let's take a look at how to do that. 
Part 1: How to Send a Fax Online Using CocoFax?
We are using CocoFax because it is the best internet faxing service in the market. It is used by 200,000+ individuals and it is used by popular companies like Buzzfeed and Tom's Guide. You can also get a thirty-day free trial if you want to use it. It has also been ranked as one of the leading software for sending fax online on G2. So, there is no reason not to try it out.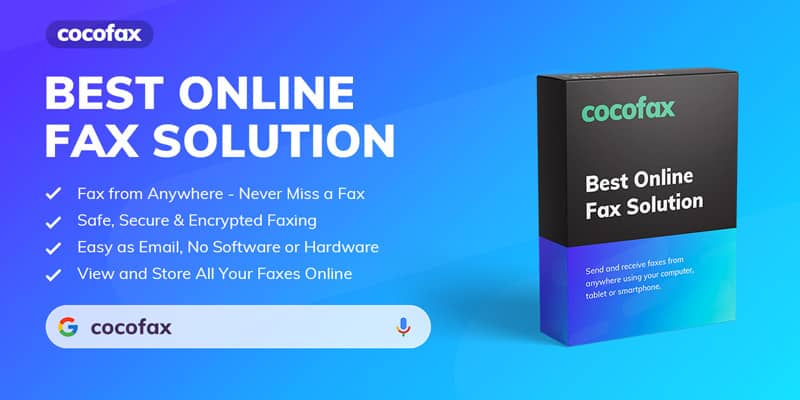 Here is what you need to send a fax online:
Computer or Smartphone: If you are sending a fax, using a computer, you don't even have to install any software. You can send a fax from the official CocoFax website. If you are sending a fax from your smartphone, you need to download the CocoFax app. It is free to download and it's available for both Android and Apple.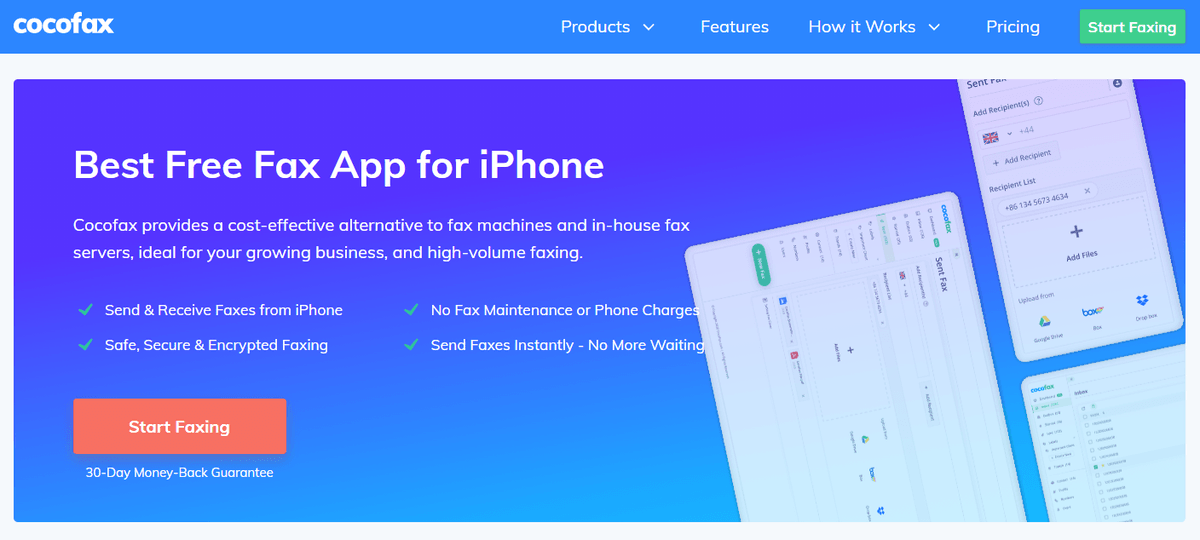 CocoFax Account: To send and receive faxes, you normally need a fax machine and a landline number. But when you sign up to CocoFax, it will automatically generate a number for you. And want to hear the best part? You don't need a fax machine. CocoFax will send the fax for you without the need for any fax machine. Isn't that wonderful?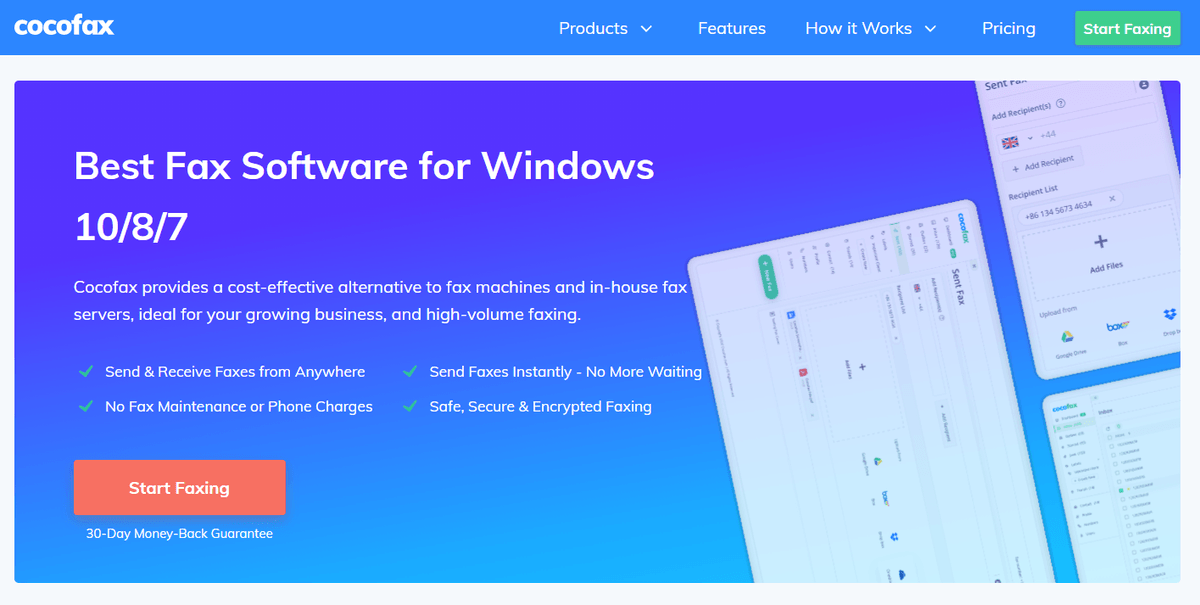 Internet Connection: Since we will be using the internet to send and receive faxes, having a reliable and fast internet connection is a must.
Part 2: Step By Step Instructions on How to Send a Fax using CocoFax

 
Now let's take a look at how to send a fax using CocoFax step by step. You can send all types of documents following these steps: 
2.1 Step 1
You need to go to the official CocoFax website: cocofax.com. You have to sign up for a CocoFax subscription. Don't worry, the first 30 days are free and you also get a 30-day money-back guarantee if you are unsatisfied with the quality of their service. 
2.2 Step 2
You will be asked to choose your country and your free fax number. Then, you will have to enter your personal information like First Name, Last Name, and Email Address. CocoFax will send you the notifications and incoming faxes on the email address you enter. So, make sure you choose an email address that you actively use.
Also read: Free Fax Without a Fax Machine: 3 Steps to Send & Receive Faxes Easy and Quick
2.3 Step 3
Your sign-up to CocoFax is already completed. Now you are logged in to the CocoFax dashboard. This dashboard is your virtual fax machine. You can send faxes from here and it keeps track of all your fax activity.
You can send PDF, PNG, JPEG, DOC, XLS files, and other popular formats. If you are specifically looking to send a PDF, you can click here. To send a fax, you need to select the "New Fax" button on top. Then, the fax creation window will pop up.
2.4 Step 4
This is the window where you will compose your fax. Composing your fax is similar to writing an email. It has the following fields:
"To" Field: You will enter the recipient's fax number here.

"Subject" Field: Just like an email, this is the subject of your fax. It is optional and you don't have to fill it if you don't want to.

"Cover Page" Field: This will show up as the first page of the fax. This one is also optional.

"Attachments": You can send one or multiple documents using this field. The CocoFax software will automatically convert these documents into fax format for you.
2.5 Step 5
After filling out the details, hit the "Send" button. You are all set and your fax should be sent. CocoFax will send you a confirmation within seconds in your dashboard and email address once the fax has been sent successfully.
If the fax fails, it is probably because you entered a fax number that doesn't exist or the recipient's fax machine is having problems. Such failures occur rarely and you can always try again if that happens.
Part 3: How to Receive a Fax Online Using CocoFax? 
Receiving fax online with CocoFax is really easy. You just have to give your fax number to the sender. CocoFax will send the incoming fax to your registered email address as a PDF. You can choose to view it or print it.
This feature is only available to subscribers who are using a paid plan. If you are using the trial version, this feature won't be available to you. In that case, you need to upgrade to a paid subscription to be able to receive faxes online.
If you are concerned about the safety of sending faxes online, you should know that sending and receiving faxes online is really safe. If you are using a reliable service like CocoFax, you don't have to worry about your privacy and security. They use encryption so that only you and the person you are interacting with will be able to see the faxes.  
Part 4: Conclusion
CocoFax has made it really easy and cheap to send faxes. You don't need to get an expensive fax machine and pay a monthly landline bill to use faxing anymore. You can get started with faxing for free with their 30 days free trial.